Machine failure can deliver an important lesson on future prevention and correct lubrication practices including Tribology. There have fortunately been countless investigations into failure causes across wide-ranging machine types and applications. This learning has enabled organizations to greatly enhance reliability but only when machine and programmatic modifications were applied. Lubrication and reliability training programs are designed to teach this collective knowledge about failure prevention. Root cause analysis shows that poor/absent lubrication practices account for 53% of equipment failures – see Figure 1.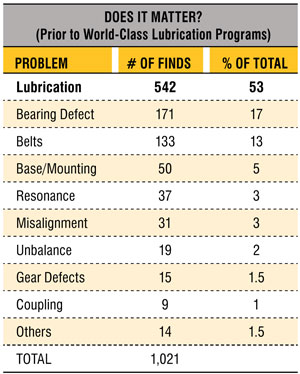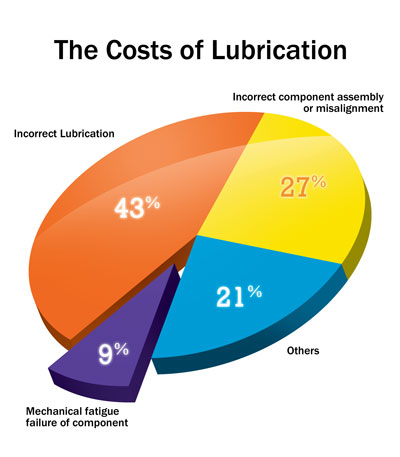 Lubrication-Enabled Reliability
Lubrication-enabled reliability (LER) relates to all activities that improve reliability through tactical changes in the use and application of lubricants. LER offers specific benefits and opportunities that don't exist with alternative reliability strategies.
The cost of repairing or replacing a failed machine plus the cost of lost production is often neglected and is outside the control and judgment of management. This consideration is often driven entirely by the failure of a critical machine. When there is a machine failure, managers should perform a thorough root cause analysis (RCA) followed by the prescribed changes needed to prevent reoccurrence.
LER is an initiative taken prior to failure, ideally when there is considerable remaining useful life. The following are three critical factors that should be considered in making reliability investments such as LER:
Find Lubrication Opportunities That Yield Deep Benefits
A company's approach may be to continue reactive maintenance using the 4-R treatment – rapid component replacement, repair, removal or rebuild. In such cases, the opportunity is rich; the worse things are, the better the opportunity for change.
LER is not oriented towards failure but addresses the root cause such as contact points with the machine that over time influence wear rate and corrosion. The consideration of lubrication type, quality and management thereof is vital to slow down the rate of wear and corrosion.
Figure 2 represents a plant-wide graphical representation of the causes of mechanical failure reported by a mining company. The incorrect choice and usage of lubricants formed the root cause of more than 43% of mechanical failures – by far the leading cause of failures.
Target Conditions that can be Changed and Controlled
Lubrication-enabled reliability is not complex and any maintenance organization can accomplish it with proper training, planning and deployment. Much of it is behaviour based and calls for modifications of people skills, machines, procedures, lubricants and metrics. Optimum Reference State or ORS is a state of preparedness and condition readiness that enables lubrication excellence. It gives the machine and its work environment "reliability DNA" as it relates to lubrication. The enabling attributes of ORS needed to achieve LER and best lubrication practices are:
People Preparedness:

 trained to modern lubrication skill standards and certified competencies.




 

Machine Preparedness:

 machines have the necessary design and accoutrements for quality inspection, lubrication, contamination control, oil sampling, etc.




 

Precision Lubricants:

 lubricants are correctly selected across key physical, chemical and performance properties, including base oil, viscosity, additives, film strength, oxidation stability, etc.




 

Precision Lubrication:

lubrication procedures, frequencies, amounts, locations, etc. are precisely designed to achieve the reliability objectives.




 

Oil Analysis/Tribology:

 This includes optimal selection of the oil analysis lab, test slate, sampling frequency, alarm limits, troubleshooting rationale, etc.
These ORS attributes are simple but fundamental changes that are within a plant/mine's ability to modify and manage and they are definable, measurable, verifiable and controllable.
Maptsoft Tribology Functionality – Performs a vital part of Lubrication-Enabled Reliability
All inspection points, either Lube or Grease points are tagged with RFID tags

NFC enabled rugged smart phone used to scan each Lube & Grease point

Scan takes less than 2 seconds – app pulls unique asset inspection regime

Inspection synced to Maptsoft website – data is quickly accessible

Assurance that all lube or grease points are tracked

Tribology reports are uploaded to website (pdf) creating digital library

Each report labelled, dated & lab designated

Tribologist enters lab data, which is then available for analysis

Graphing and trend analysis of chemical compounds over time

Lab/Tribology results and reports are easily accessible

Data tables can be extracted from reports – all reports available in Excel/pdf

All data available quickly